Wisconsin CEOs: Lessons Your Sales Team Should Learn from the Packer's Stunning Defeat
I'm still shocked. The collapse I witnessed during the NFC Championship Game on Sunday is going to bother me for a long time. But maybe we can create a silver lining by drawing comparisons between a few key events in the Packer's loss to common mistakes and challenges we see the business-to-business sales teams we work with every day. Actually, it probably won't help me overcome my negative feelings today - but here it goes.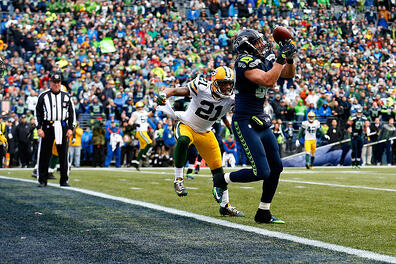 1. Complacency – with about 8 minutes to go in the 4th quarter you could just feel the game starting to slip away. It just seemed the Packer players moved with less urgency. It was as if they believed they had already won the game and they were just not as aggressive as they had been the entire game. How many times do you see your sales team going through the motions, taking things for granted, taking their foot off the gas a little? How can your sales leaders help everyone on the sales team stay focused and maintain a sense of urgency? Is complacency in your sales organization slowing growth?
2. Execution – there are three key plays that really stand out where the Seahawks out-executed the Packers, and these few plays turned the game completely around. With the Packers up by 5 points and time running out, everyone knew the Seahawks were going to do an onside kick. The "hands team" lined up. Some players are supposed to block, others are supposed to catch the ball. Packer tight end Brandon Bostick's job was to block, but he lost focus and decided to go for the catch (instead of blocking and letting Jordy Nelson get the ball). He mishandled the ball and the Seahawks recovered. Then with 1:33 left in the 4th quarter and the Packers defense trying to hold them to a field goal, Marshawn Lynch sliced through the defense for what looked like an easy touchdown. He made the right cut and the Packer defenders missed the tackles. And with 1:25 left in the 4th quarter the Seahawks decide to go for the 2-point conversion. The Packers put immediate pressure on a scrambling Russell Wilson, who heaved the ball into coverage and it floated into tight end Luke Wilsons hands as Packer defenders looked on in disbelief. When it counts, does your sales team execute like the Seahawks or do they lose focus like the Packers?
3. Discipline – in the first quarter after an interception by Packer safety Ha Ha Clinton-Dix, defensive tackle Mike Daniels ran over to taunt Seattle lineman J.R. Sweezy (right in front of an official). This drew a flag and instead of first and goal on the 4-yard line the Packers had first and 10 on the 14-yard line. They settled for a field goal instead of a touchdown. Are your sales people shooting themselves in the foot like this? Do they ever ruin a great sales meeting with an offensive joke or off-color remark? Do they lose focus and fail to follow up in a timely fashion? Do they consistently stay "in-the-moment" and not let their emotions get the best of them?
4. Letting Up to Soon – with 5:13 left in the game, Packer safety Morgan Burnett made an interception and immediately went to the turf. He had plenty of room to run, but instead of advancing the ball he just slid to the ground. It seems that he assumed that interception would seal the victory and the best move was just to hand the ball over the Aaron Rodgers and the Packer offense. But there were still more than 5 minutes in the game. Could he have advanced it far enough to put the Packers in field goal range? We'll never know. This is the equivalent of a sales person getting a great compelling reason from a prospective customer and then stop asking questions. We advise sales people to build a case by identifying 6-8 compelling reasons, not one or two. Are your sales people taking a dive too early in the call, or do they press forward with additional questions, exploring every potential issue or challenge a prospect may be experiencing?
5. Return on Luck – I had the opportunity to listen to Jim Collins a few years ago and one of the concepts he talked about is how "great" companies seem to realize a higher return on luck. There are so many factors that are out of our control in business, but if we can take advantage of favorable circumstances when we have them we'll do better. And the key to this is always being ready to execute. When Seattle won the coin toss in overtime, they executed and Aaron Rodgers never got his hands on the ball. Is your sales team ready for this type of crisp execution? Are they able to capitalize on opportunities to maximize your return on luck? Are your sales leaders able to recognize these opportunities or are they so focused on the pipeline metrics and key performance indicators that they lack the broader perspective needed to both see and seize these chances?
There are probably other sales lessons to learn from this game, but these are the ideas that immediately come to mind as I reflect on this stunning loss. Take a moment to think about how these may apply to your organization, because unlike the Packers, you don't have the next seven months to figure it out and get ready for next season. You need to get going right now.
Article Source: Tom Silverstein, Milwaukee Journal Sentinel (http://www.jsonline.com/sports/packers/series-of-blunders-miscues-sent-packers-home-for-season-b99428503z1-288995461.html). '
Image Source: (Getty Images)