Leveraging Sales Enablement Practices that Drive Performance
How much focus do your sales managers put on conversation speed and tonality when they coach their salespeople? At Intelligent Conversations, we use a powerful analytical tool called Refract that looks at conversation speed and tonality, among dozens of other factors which play into your team's sales performance. If you'd like to learn more about sales enablement best practices, please join me on Tuesday, June 25th at 1pm CST for a free live "Sales Enablement Mistakes - And how to Avoid Them!" webinar, sponsored by Sales and Marketing Management Magazine. All registrants will be invited to submit a brief recording of one of their top sales performers in action, and receive a FREE call analysis.
Even without a tool, a good place to start is to have your sales managers listen to live calls or recordings of calls. It's common for salespeople to ask and answer their own questions before the prospect has an opportunity to engage. You can coach them to slow down and to be comfortable with a pause. Even though your salespeople have had this conversation 500 times before, they should remember it's the first time for the prospect..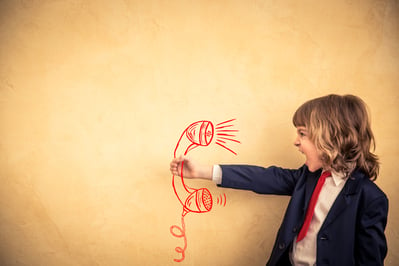 The next time you meet with a sales leader, ask them to pay attention to this when they coach their team. Whether they're making cold calls, following up on an inbound lead, or even in a face-to-face meeting, a good mindset to teach salespeople is go "low and slow." As salespeople get nervous or grow uncomfortable, they tend to speak faster and at a higher pitch. When they slow down and talk with a lower pitch, they sound more authoritative and confident.
The pace of their speech should depend on your market and where they are calling. For example, if you're in New York City, and calling on prospects in the Northeast, a faster pace is appropriate. If your New York sales rep calls a prospect in Birmingham, Alabama they should slow down. In other words, let the market dictate the pace of your conversation. The ideal pace - across any region - should be somewhere between 100 and 150 words per minute. Speaking slower than that may indicate a lack of confidence and any faster than that may come across as nervous or difficult to understand.
Where they are in the sales cycle can also affect speed and tone. As your salespeople hit crucial moments in the conversation, coach them to allow a little space before asking, "Would you like our help?" or "Would you like to move forward?" A simple pause before a question like that can make the prospect more comfortable and facilitate a smoother communication. Be comfortable with the pause, and don't say anything until they've had an opportunity to consider and respond.
Even early on in a cold call situation, give your prospect time to absorb the fact that they're receiving a phone call. Too many salespeople introduce their name and company, and immediately launch into their pitch. It's better to just say their first and last name, then let the prospect respond.
We hope you'll join us on Tuesday, June 25th at 1pm CST to do a deeper dive into all things 'Sales Enablement'! Register for free, HERE!

For any other inquiries about Intelligent Conversations,please fill out the text boxes below: