What Can CEOs and Sales Leaders Learn from Barry Alvarez?
Many of you may not be following the recent developments on the University of Wisconsin football program as closely as I have been, so let me set this up with a brief overview before I dive into what I think are five key lessons CEOs and Sales Leaders can learn from Barry Alvarez. In full disclosure, I graduated from the University of Wisconsin in 1990 and am a huge badger fan! When I attended UW Madison we had to endure Don Morton's ill-conceived and poorly executed "veer offense" which was not only terribly boring to watch, but also easy to defend. The results were horrible (Morton's record at Wisconsin was 6-27) and when Barry Alvarez came to Wisconsin in 1990 we were all thrilled. If you're interested in his career stats you can go here. I'll just sum it up by saying he had a lot of success and really put UW Madison's football program on a national stage.
In 2006 Alvarez named Brett Bielema head coach and Alvarez became the athletic director. It seemed perfect, a smooth transition to a new head coach, continued success in major bowl games, continued recruiting success (one great running back after another)…… and then suddenly Bielema decided to bolt for an arguably less prestigious position at the University of Arkansas. Alvarez returned to the sideline to coach the Badgers in a loss to Stanford in the Rose Bowl while the second search for a head coach in three years was underway. They recruited Gary Anderson from Utah State and it seemed as though Alvarez had done it again. The program rolled on with continued success (right up until the shellacking we took against Ohio State in the Big 10 Championship Game) when suddenly Anderson announced he was leaving Wisconsin to take a head coaching position at Oregon State (again, arguably a less prestigious program). So now the search continues and badger fans are hoping the third time in 5 years will be the charm. We'll see.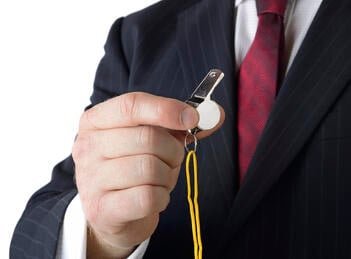 So what does any of this have to do with CEOs and sales leaders interested in driving sales growth? Here are five lessons for you to consider, three negative lessons (learning from what appear to be Alvarez's mistakes) and two positive lessons (learning from what Alvarez appears to be doing well). As you read these lessons, consider how they may apply to your situation, particularly when it comes to recruiting and hiring decisions as well as consistent management communication.
Set Clear Expectations During the Interview Process – there were two primary reasons Anderson gave for leaving Wisconsin. First is family, he said he really wanted to move back to the West Coast because of his family. I can respect that, but wonder how thoroughly that was explored during the interview process. The second reason Anderson gave was his frustration with not being able to get some of the Junior College athletes he wanted into the school (I'm glad UW Madison is at least applying some standards concerning academics – my sense is there's probably still room for improvement but they seem to be better than many programs). Lesson Learned: Use the interview process to explore all the reasons why your star candidate shouldn't take the job. Are they sure they can live two time zones away from their family? Are they sure they can build a strong team AND maintain strong academic standards? Try to disqualify your strongest candidates with these types of questions and if you can't, you've got a great candidate.

Let Go and Let them Lead – my friend and colleague Gretchen Gordon made this point (while she was calling to give me a hard time after the embarrassing loss to Ohio State). She wondered if one of the reasons Wisconsin has high turnover is because Alvarez meddles in the football program too much (instead of focusing on leading the entire athletic department). I have no idea if that's the case, I'm not there and they're not a coaching client of ours. What I can tell you is I've seen this situation in companies we've worked with over the years. CEOs who had tremendous success in sales and sales leadership throughout their career tend to hire weaker sales leaders or undermine strong sales leaders by meddling in their business. Lesson Learned: Hire strong people, then let go and let them lead.




It Shouldn't Be a Surprise – if you have a healthy environment and healthy relationships with everyone on your leadership team – which means you have regular, consistent, open, frequent, authentic, and transparent communication with each of your team members – you really shouldn't be caught off guard by someone deciding to suddenly leave. Lesson Learned: Create an environment of trust and open communication throughout your company (and especially at the leadership team level). Need help? Start with Pat Lencioni's Five Dysfunctions of a Team and then read Keith Ferrazzi's Who's Got Your Back.




Maintain a Strong "Virtual Bench" – Alvarez maintains a short list of potential coaches at all times. He stays in touch with them and keeps track of their successes. He thinks about who would be a good fit for the Wisconsin Football Program and has a list of strong candidates ready to go. So when Anderson resigned his position, Alvarez was able to fire up the search process almost immediately. How quickly would it take you to react if one of your key leaders or top producing sales people suddenly departed? Lesson Learned: Build (and maintain) a virtual bench. Send notes and cards, have lunches or dinners with them, build a real relationship so if the opportunity presents itself you can quickly make an offer and fill a key gap on your team without missing a beat.




Know Your Brand – as much as it pains me to say it, the University of Wisconsin Football program is not a premier top tier college football program. It's a very good college football program, but it's not at the same level as an LSU, Alabama, Ohio State, Oregon, or Florida State. Alvarez understand this and has a realistic view of Wisconsin's "brand" as a football program. While I hope the next coach they hire to lead the Wisconsin football team is a perfect fit and will be there for years to come, the last two coaches have made it clear that being head coach for the Wisconsin football team is not a destination job. Lesson Learned: Be realistic about how the market (and potential job candidates) really see your company.



How solid is your talent recruiting? Should this be an area of focus for your company in 2015? If so, ask us about how our Topgrading program or our STAR Complete sales hiring program could help impact your business and make recruiting a strength for your growing firm. Email us at info@intelligentconversations.com.