Cold Call Strategies – How to Overcome Your Sales Call Reluctance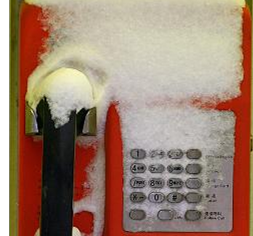 Believe it or not, there are sales people who absolutely thrive on making cold calls. But for most of us sales mortals picking up the phone to call a perfect stranger is not a natural behavior. That's why in our business consulting practice we spend a lot of sales management coaching time helping our clients hold their sales people accountable to hitting certain targets for prospecting activities (number of dial attempts, number of conversations, number of appointments, etc.). We find that if you manage a sales team's daily activities and make sure they "do the work" of prospecting, the results will follow.
So what can do to get back track if you're a mere sales mortal and are not one of the rare sales people who absolutely loves making cold calls? Here are five ideas you can put to use right away, plus a bonus opportunity if you want to explore your call reluctance further.
Know Your Target – you can't make calls if you don't have the right list. And if you invest your valuable time calling the wrong people you will quickly get frustrated and give up. If you don't know where to start, ask your sales manager for a list of your firms most profitable and productive accounts and start to identify companies and people at those companies that look like them. Tools like www.jigsaw.com andwww.zapdata.com can help you get started.
Call Higher Than You Think You Should – once you understand who your target should be, call higher than you think you should. Many sales people spend their prospecting time calling the people they're comfortable with or who will talk with them. If these people happen to be the decision makers, great. In many cases they're not so you need to go up a level (or two).
Make it a Habit – making cold calls is like anything else you know is good for you but don't want to do. If you allow yourself to find other activities you'll never get to it and you'll go home at the end of the day making promises to yourself about how many calls you're going to make "tomorrow." But then you just repeat the same routine. Schedule time with yourself on a regular basis (daily is ideal) to make your prospecting calls. In general, the earlier in the day you can do this the better.
Make it Fun – what can you do to make it a game? Can you keep track of how long it takes to have five (5) conversations and always strive to beat your personal record? What would happen if you started your call with a joke or asked a trivia question to every gatekeeper you encountered? Can you make your calls standing up and moving around? What can you do to make it fun and bring positive energy and enthusiasm to your prospecting efforts?
Be Prepared – this advice isn't just for boy scouts. How much more confident will you sound when you have a clear opening and can quickly explain why you're calling (from the prospect's point of view)? How professional will you look if you have timely, relevant examples and questions to peak their interest and get the conversation started? You don't want to read from a script, but just winging it every time doesn't work either.
If you're serious about overcoming your call reluctance and improving your prospecting skills I urge you to sign up for the
webinar
we're sponsoring on Tuesday, January 11 at 1:00 pm Central Time. Last bit of advice – don't hesitate, just do it.