Is the MVP of Your Sales Team like Giannis Antetokounmpo?
Who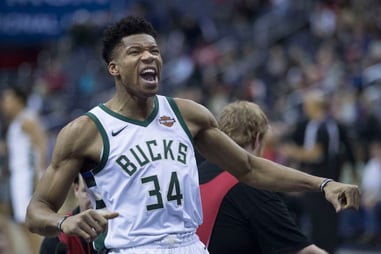 is the MVP of your sales team? Milwaukee, Wisconsin, where our office is headquartered, happens to host quite a few MVPs. Last year, Christian Yelich had an awesome breakout year with the Milwaukee Brewers as they went all the way to the final game of the National League Championship series, and Yelich won MVP for the National League. Then, of course, just recently Giannis Antetokounmpo won the Most Valuable Player award for the National Basketball Association at the end of last season. Now that basketball season is upon us, we're reflecting on what makes a sales person MVP material.
So let's draw on lessons from Giannis' MVP season and how that applies to your sales organization. When we talk to CEOs, one of the things that we hear quite often is "So-and-so is our number one sales person and has been for years." And in some cases, that sales person actually is the most valuable person on their team (but not for the reasons the CEO thinks). Usually when the CEO picks the top salesperson it's based on revenue production. More often than not, the most valuable sales person may not always be responsible for the most revenue isn't always doing things the right way (they just happen to be in the best territory or they inherited the best accounts). In many cases, the person who's responsible for the most revenue was hustling like an MVP earlier in their career to build out their territory, but now they've taken their foot off the gas and they're living on the success they built up over the years rather than continuing to improve.
Giannis is a model for who you should call your MVP of sales. The number one thing about Giannis is he's very humble and unassuming. He knows he's very talented but doesn't have a brash ego. Giannis goes about doing his work, lifting other teammates up, and helping everybody out without causing trouble. His humbleness and lack of ego is one of the main criteria you should consider for your most valuable sales person.
Another incredibly important quality for your MVP in sales is putting in the work. After a sales calls, your most valuable sales person is more likely to do some immediate analysis, think about what they could do better, work on that and bring that into the next sales call with them, Just like Giannis. Giannis will often be in the practice gym after a game and he'll work on his free throws, his drop step or different aspects of his game that he felt were maybe awesome by everyone else's standards but not quite up to his standards. That's why he continues to get better. He's willing to do the work.
Having that raw drive and passion for continuous improvement is key. Often sales people are evaluated by having that desire and that commitment to do whatever it takes to be successful. Giannis has that in spades, and that's another quality to watch out for in your top sales people.
Finally, being a team player is a quality attributed to most, if not all, MVP's. It's not all about you, but even when there are times where you have to put your team on your back and get that extra sale or get that extra basket in Giannis' case, still being a team player certainly makes you a more valuable sales person or a more valuable basketball player.
If we're going to bask in the glory of Milwaukee's MVP's, lets think about Giannis and how you can apply what's made him the most valuable player in the National Basketball Association to your sales team. Think to yourself, "Hey, who on my team has those qualities? Who's humble? Who's willing to do the work? Who has the drive to get better and to continuously improve? Who's willing to do whatever it takes? And who's a team player that can lift up their team when they need to or will blend in with the team when they need to?" Those are some of the attributes we would advise you to consider as you look at who on your sales team is your most valuable player.