Creating a Client Scorecard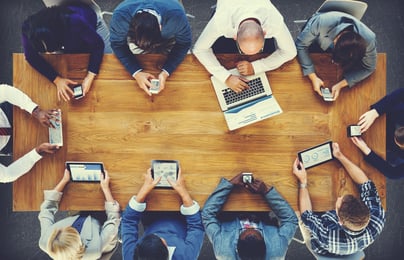 We have been working with a lot of our middle market clients lately on implementing or refining scorecards for sales or sales leadership roles. The power of a well-crafted, clearly defined job scorecard is it takes all the guess work and ambiguity out of a position. This is the job, this is how you'll be measured, these are your priorities, here are the resources you can leverage to be successful in your position. If you're not using scorecards for your sales team contact us at info@intelligentconversations.com and we'll send you a sample.
All this work on creating job scorecards got me thinking - what would happen if your sales team knew exactly what you were looking for when acquiring a client? Would your salespeople benefit from the same focus and clarity created by a clearly defined scorecard? What would happen if your sales managers applied the scorecard concept to map out your ideal client? In our experience, too many sales teams use an "anything for a buck" sales strategy; they'll sell anything to anyone and move on. In the short term this approach will drive revenue, but remember, not all revenue is created equally. The more specific you can get about really keeping your team focused on your your dream client, the better the results will be.
Take a look at your current client base. Where are you making the most money? Who are the clients that are easy to work with? Write down your top five or six clients and what they have in common. What industry are they in? How big are they? How did the conversation with them start? What was your entry point? What's the strategic value of that client? Are they a name brand that give you instant credibility? Do they push your firm to be better?
Some clients can be a real pain in the neck. Some clients are awesome. You may have both in your portfolio, but who do you prefer? Are the pain-in-the-neck clients paying a premium? Is it enough? Do they see the value in everything you provide? Or do they nickel and dime you and negotiate every transaction? What's their potential for making quality referrals? Can they influence you and improve your standing in the market? Are they paying you on time or do they have long payment terms? These are just some of the filters to think through.
When you take the time to look at your ideal clients that are already in your portfolio and map out what you like about them, how you got them, and describe them in as much detail as you can, you can create a client scorecard that will help your salespeople focus on who they should be talking to, what they should be selling, and how they should be selling.
Without that focus, they'll continue with the "anything for a buck" strategy and you'll find yourself wasting important delivery cycles or production cycles trying to fill orders that really don't make sense to the overall strategic direction of your company. So get focused, develop a client scorecard, and teach your salespeople which clients to quickly disqualify because they don't meet your ideal client criteria and move on to those that do.