Mike Carroll, Founder & Managing Partner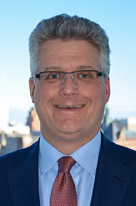 As Founder and Managing Partner of Intelligent Conversations, Mike Carroll brings more than 27 years of sales and marketing experience to deliver sales systems that drive remarkable revenue growth for clients. Mike works hands-on with senior executives, sales leaders, and salespeople to change behaviors, grow new skills, and increase value by implementing methodologies proven to create results. With a wide range of business-to-business sales and marketing experience, Mike has particular expertise in manufacturing, telecommunications, software, and financial services, including commercial and small business banking. He is a leading growth consulting and sales force transformation expert.
Prior to founding Intelligent Conversations, Mike held senior positions in sales, sales management, and product management at Wachovia Bank, M&I Bank, Mindlever, Inc., and Fiserv, Inc. He holds a BA in English from the University of Wisconsin.
Mike is an active volunteer on many committees at both his church and at his kids' schools, and he sings bass in his church choir. Mike and his wife, Pam, live in Milwaukee, Wisconsin with their four children.
Please visit his LinkedIn Profile here.
View his blog for Presidents, CEOs and Business Owners at: CEO Sales Guide.
---
Cliff McDonald, Partner
Cliff McDonald, a Partner in the firm, brings deep experience in sales and marketing, executive leadership, entrepreneurial start-ups, business ownership and coaching to our clients. Cliff started his professional career with sales and business development roles in the financial services and technology industries. He had great success as a top performer with companies including Fidelity Investments, Genuity (Level 3) and Sprint.
Cliff was most recently COO of a technology firm based in Madison and under his leadership the company experienced growth of just under 50% in less than three years. He is also the co-founder / co-owner of Brocach Irish Pub and Whiskey Den, a fixture on the Capitol Square in Madison since 2004.
He lives with his wife Shanna and their three boys in the Village of Shorewood Hills in Madison, Wisconsin. Cliff is a volunteer assistant football coach at Madison West high school.
Cliff has a BA in Psychology from Dartmouth College where he was also an all-conference football player and a member of two championship teams. He also has an MBA in Finance, with Distinction, from DePaul University.
Please visit his LinkedIn Profile here.
---
Hannah Riebau, Client Services

Hannah Riebau brings tremendous focus and energy to keeping the team on track and making sure our clients get whatever they need to be successful. Her primary focus is planning and executing task management, process improvement, and marketing. Hannah is a fast paced worker with a drive for helping Intelligent Conversations improve our processes, manage client needs, and create lead generation.
Prior to working with Intelligent Conversations, Hannah attended the University of Wisconsin La Crosse, where she obtained a degree in Marketing.
Please visit her LinkedIn Profile here.
---
Jack Madderom, Accountability Coach